It's nice to know where your tomatoes come from. It's even better when you know the people who grow them. So take a minute to learn a little bit about the folks who share your passion for this wonderful fruit.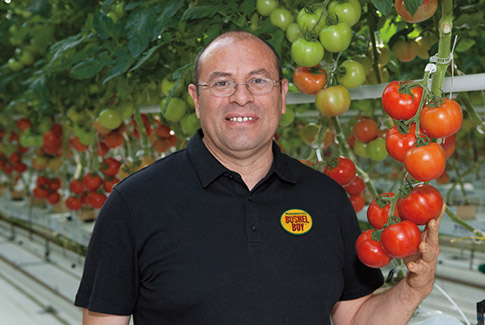 Featured Employee
Alfredo Torres
Grower 6 years with Bushel Boy
Q. What do you like most about growing tomatoes? A. This career is part art and part science. So you combine both to try to make the perfect tomato. The plants are like babies. You have to watch over them and "listen to them" to make sure you're taking care of their needs. The right amount of water, light, humidity and so on. It's always a different challenge to make the perfect tomato.
Q. What do you like to do when you're not in the greenhouse? A. Actually, I'm on call for the greenhouse 24/7 so I spend a lot of time there! It's like farming…you have to put your time in. But when I'm not there I just like spending time with my family.
Q. What's your favorite way to enjoy tomatoes? A. I'm Mexican, so I like good salsa with peppers.